About
The Foundation
CREATING COMMUNITIES WORLDWIDE THAT EMBRACE RESPECT, UNDERSTANDING, KINDNESS AND FORGIVENESS.
The MJCH Foundation supports four facets of the Mannie Jackson Center for the Humanities – humanities programming, hospitality, STEM, and a conference center. Click on the petals for more info on each.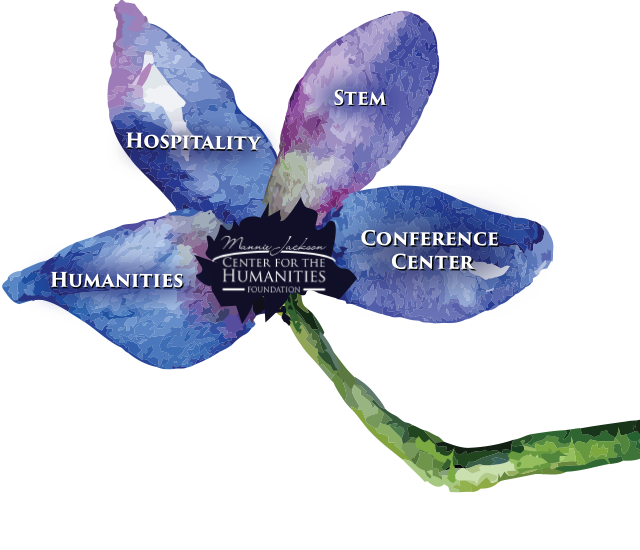 "A beautiful flower. The stem of the flower is, in fact, S.T.E.M. - Science, Technology, Engineering, and Math. But, the blossom of the flower is the humanities. Without the blossom, the stem is completely useless."
-John Lithgow, The Heart of the Matter
---

LOOKING BACK

"Many of us aren't dreamers. Mannie is rare; he is a dreamer and it takes someone like him, a person with a vision and the ability to move people into action to make something beautiful out of troubled wreckage."

Herman Shaw, President
Lincoln School Alumni Foundation

---

AROUND THE CORNER

"Mannie uses his experiences and circumstances in his childhood to make life better for other people. He serves as a role model of transformational leadership to this community and internationally. This Center will serve to enrich the lives of generations to come."

Dr. Dale Chapman, President
Lewis and Clark Community College

---

NEXT CHAPTER

"Mannie has walked the road of boxcar to boardrooms. It was a journey comprised of opportunities to go to the next level and failure. He chose to go to the next level rather than using his conditions, obstacles and circumstances as a crutch. That is a story that every individual can understand. That is what the Center will provide - opportunities."

Dr. Ed Hightower, Former Executive Director
Mannie Jackson Center for the Humanities Foundation

---

A NEW PURPOSE FOR LINCOLN SCHOOL

More than 4,000 visitors have toured the Mannie Jackson Center for the Humanities (MJCH) since it opened on Dec. 1, 2015, and public reaction has been largely positive. "Without the vision and commitment of Mannie Jackson, the city of Edwardsville would have lost this historic building. There is rich heritage here, and it is important to save it."

Cyndi Reinhardt, Edwardsville Historic Preservation Commission
Madison County Historical Society

---
REGIONAL ECONOMIC IMPACT
Inspiring and leading world change through humanities programs and educational activities, the Mannie Jackson Center for the Humanities seeks to serve as a major educational center.
---
ECONOMIC IMPACT:
$81,014,203


JOBS:

846
---
NATIONAL & INTERNATIONAL IMPACT
The MJCH will also host professional education institutes that focus on teachers implementing the humanities to inspire their students to reach above the stars through education in order to pull themselves from a lifetime cycle of poverty.The Center will serve as a place where major speakers from across the world will draw thousands of visitors to the Madison County Area, while raising the level of education for individuals locally, nationally and internationally.