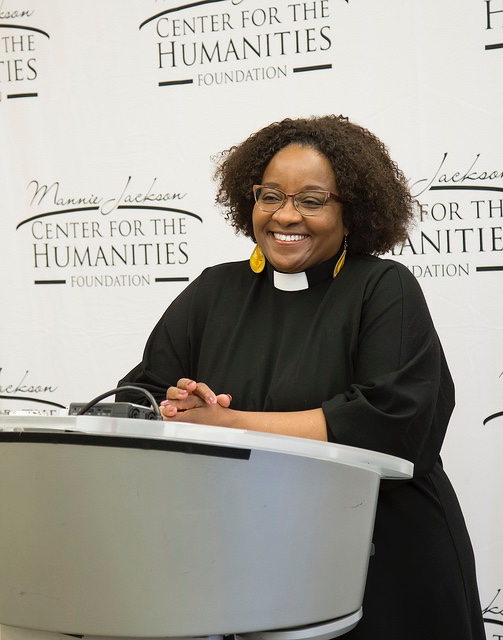 Humanitarian Naomi Tutu was the guest of honor at the 2018 MJCHF® Annual Speaker Series and Fundraiser on Wed., March 30 at Southern Illinois University Edwardsville.
Tutu, daughter of South African Archbishop and Nobel Peace Prize awardee Desmond Tutu, spoke to the crowd of nearly 460 MJCHF supporters about the significance of the humanities, aligning with the four pillars of the center—respect, dignity, understanding and forgiveness.
"We are here tonight to support an organization that attempts in many ways to model, to teach, to show, and to encourage our young people and our politicians what it means to respect the other, what it means to offer dignity to the other, and what it means to try and understand the other's position, so that we can be a reconciled community, society, country and world," said Tutu.
Tutu explained to the audience of community leaders, politicians, teachers, and students that the first step to resolving the polarization in today's world is very simple. It requires us stating to each person we encounter, regardless of our differences, "You are a human being." Or, in Tutu's South African language, "Ubuntu." She reinforced this staple of her culture throughout her entire speech, stressing the importance of this simple realization and the major impact it can make on our society.
The dinner program also featured a variety of speakers, including Channel 4 News' Steve Savard who served as the emcee for the evening, MJCHF Executive Director Ed Hightower, Lewis and Clark Community College President Dale Chapman, and MJCHF President Mannie Jackson who closed the evening.
Jackson acclaimed the leadership and vision of Hightower and Chapman and the MJCHF Board of Directors as they work tirelessly to solve this country's humanities issues. He also stressed the importance of the community's support in funding the MJCHF programs, such as expanding the Conversations Towards a Brighter Future (CTABF) program outside of Madison County on a global scale.
"We all have to start putting our money in this program to make it happen, we have to change the way we think about people and the humanities. We have to treat people better. Corporate VP's, heads of state, we all have to get in line, and stop throwing the humanities problems down to the victims and the kids, so that they do not grow up into a corrupt system," said Jackson.
Two students from the CTABF program, Kai Hale of Granite City High School and Mackenzie Wiegers of Triad High School, also spoke about the significance of the program and how it is the key to creating positive, lasting change in our nation.
Prior to the main event, Tutu participated in a question and answer session with nearly 40 students from various Madison County high schools that are participants of the CTABF program, where she discussed the importance of education, social justice, respect, diversity, and personal development. She encouraged them to always stand up for what they believe in.
"Tutu served as an inspiration to our students and adult guests alike to get involved with these important discussions around social issues, and to take action and raise our voices for the humanities, rather than remain silent," Hightower said. "We could not have been happier with year's program, and I want to sincerely thank our donors and guests for making it possible."
To learn more about the MJCHF, its CTABF program, and its other initiatives, visit www.mjchf.org or http://www.lc.edu/manniejackson/.