Speaker Series
2019 Annual Fundraiser Dinner featuring Fareed Zakaria
The Mannie Jackson Center for the Humanities Foundation is proud to present CNN's Fareed Zakaria as the speaker for our 2019 Annual Dinner, to be held Tuesday, March 26 at Lewis and Clark Community College.
The program will begin at 6:30 p.m.; doors to The Commons/bar service will open at 5:30 p.m.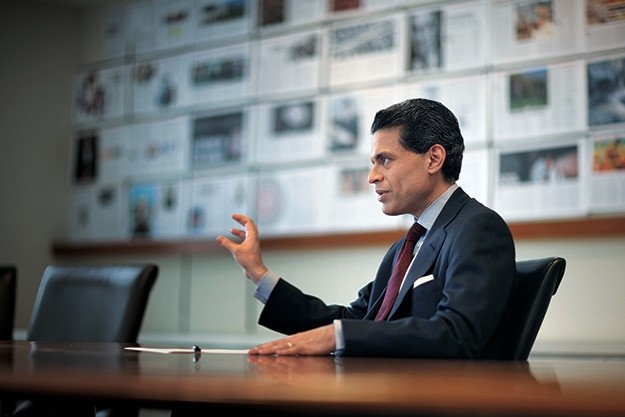 photo: Charles Ommanney, Getty Images

Reserve Your Seat(s)
Submit Payment
Payment is due in full by March 12 and will be accepted via cash, check or PayPal.
Please make checks out to:

Mannie Jackson Center for the Humanities Foundation
1210 North Main Street
Edwardsville, IL 62025
If you wish to pay online, click the button below to check out via PayPal.
About Fareed Zakaria
Zakaria hosts Fareed Zakaria GPS (Global Public Square) for CNN Worldwide and is a columnist for The Washington Post, a contributing editor for The Atlantic, and a bestselling author.

Fareed Zakaria GPS is a weekly international and domestic affairs program that airs on CNN/U.S. and around the world on CNN International. Since its debut in 2008, it has become a prominent television forum for global newsmakers and thought leaders.

Interviews on Fareed Zakaria GPS have included U.S. President Barack Obama, French President Emmanuel Macron, Chinese Premier Wen Jiabao, Russian President Vladimir Putin, Israeli Prime Minister Benjamin Netanyahu, and Turkish President Recep Tayyip Erdogan, as well as various military officials, corporate leaders and other public figures. The program earned the prestigious Peabody Award in 2011 and an Emmy® Award nomination in 2013.

Zakaria has regularly hosted primetime specials for CNN Worldwide, and frequently contributes his thoughtful analysis of world events and public affairs to CNN.com; Fareed's Global Briefing, a daily digital newsletter; and other programming across CNN's multiple platforms.

Check out his full bio at fareedzakaria.com.