Historic Lincoln School
Looking Back
By Herman Shaw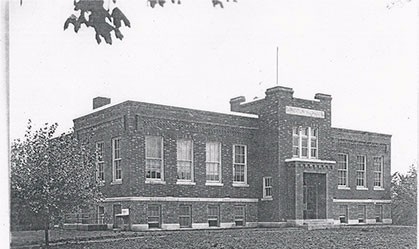 The bricks and mortar location of the Mannie Jackson Center for the Humanities serves as a constant reminder of the importance of continuing to move humanity forward in the acceptance and understanding of individuals and groups with cultural differences.
In the early 1800s, the property where the center sits today was known as Edwardsville's first town center. In 1821, it became the site of the Donation Courthouse, which had a dirt floor and only ladder access to the second story. Even so, a young Abraham Lincoln reportedly tried cases there.
In 1869, one of the buildings on the property was designated as a segregated school, which later became known as the Lincoln School.
Lincoln School
Construction of a new school did not take place until 1911, when, at the original site, a four-room school was erected for approximately $13,000. Designed by noted architects Lucas Pfeiffenberger & Sons, the new Lincoln School opened in 1912. Four teachers taught 100 students in the first through 10th grades.
Enrollment continued to increase, and in 1939, voters approved the addition of two new classrooms and a gymnasium. Eleventh grade was added in 1935; 12th grade in 1940. Nearly a decade later, in 1949, the Edwardsville School Board closed the Lincoln School.
Moving Forward
Over the years, the building has survived a serious fire, changed hands several times and was used as office space and a student residence before Mannie Jackson purchased the building in 2008 for $600,000.
Today, it is the physical home for the Mannie Jackson Center for the Humanities.